Here are the results, best portable podcast microphone is: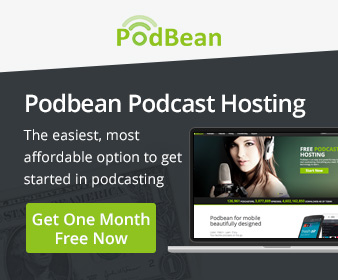 So you are planning to go on the road with your podcast? There are a couple of reasons why you should use a portable podcast microphone and not a studio microphone.
It will be easier to move around with a portable microphone
Because portable microphones are smaller, and, depending on what you buy, they can be really small. But those are not really recommended, if you would like to have a great sound for your podcast.
The sound will be better if you purchase the right one
Outdoors or interviews in coffee shops can be different from recordings in your studio or home studio. This is why the portable microphones are different. They record sound from a different distance and they record different parts of the sounds that come into the microphone.
You will get fewer looks (if this is important to you).
Some of the bulky microphones that you are using at home are not really portable, so people will look weird at you if you will travel around with them. But people are used to see journalists with portable microphones, so if they see you with one, this won't really look weird.
But number two is the most important one. You do want to make a podcast that is easy to listen to, and that has a tremendous audio footprint, and a portable microphone will allow for just that. This is the winner that you should probably look for:
Audio Technica ATR2100 portable podcast microphone
You can get it here: AUDIO TECHNICA ATR2100-USB/XLR Microphone with Knox Pop Filter and Headphones
Here are the reasons that this is the best podcast microphone you should use:
USB and XLR connector:
This will allow you to connect your microphone to more or less any device. The USB connector allows you to connect to a computer (if you want to record directly to your computer in a restaurant or a cafe). And with a USB connector, you can directly connect it to your mobile device. This means you can go and record your podcast without a computer, record in a park or in any other place where you can't use a computer.
It has a built-in 3.5 mm headphone jack. You can connect any headphones and directly monitor your voice and monitor the other sounds that the microphone will pick up. This will allow you to always set the microphone so, that you only record what you want.
It is a cardioid microphone. Without going into details, this means that this microphone will record sound from one direction, and reject sound from the sides and rear. And this is what you would usually want in an outdoor setting. Keep in mind that you need to be aware of how far the microphone is from your mouth because if you move close, you can get an increased bass response.
It has an XLR connector, so when you want to make it professional and use a sound mixer, you can still use this great microphone.
It has a lifetime warranty! This is a great feature, so you can be sure you will be able to use this microphone for years of podcasting.
The runner-up portable microphone
The ATR2100 has been chosen as the best one because it has the USB plug, but if you are going to use a sound mixer and can go without a USB connector, there is a microphone that feels a bit more durable and will get you an excellent sound, and this is the Shure SM58-LC Vocal Microphone, Cardioid
. The SM58 is the microphone of choice for a lot of live events out there. It is extremely durable and will produce an excellent sound.
Here are the benefits of the SM58:
Excellent sound that can even be a bit better than the ATR2100 that I've described at the top. If you want the best sound, you can get, this is what your portable podcasting set-up should be.
Its frequency response is specifically tailored for vocals; it has a brightened midrange and bass roll-off to control proximity effect, so even if your guests will hold the microphone right in front of their mouths, the sound will still be great.
The uniform cardioid pickup pattern isolates the main sound (the one you want to record) and minimizes background noise, so it is great for recording outdoors.
Both of the featured microphones are a bit heavy. They are around 280g each (10 oz).
This are the two best portable podcast microphones that you can buy if you want to go and record podcasts in an outdoor setting.
And before you jump in your car and hit Record, you should also think about other things you will need for your on-the-road-podcast setting. I've put together a list of all the stuff if you want to build a portable podcast studio, go check them out.
Do you have any experience with the mentioned microphones? Tell me about it in the comments.