"Finding a home for your podcast can be a big job, comparing all the websites and apps that allow podcast hosting is a tedious job, so I'm here to help you. In this article, we are going to compare two podcast hosting options that are both very popular, Podbean vs. Soundcloud. (If you just want the decision, we feel that Podbean is the better podcast host. Go and create a profile https://www.podbean.com)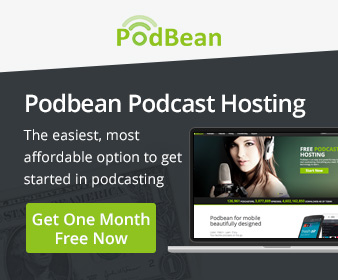 First, let's look at what are the things that are important when looking for a podcast hosting:
Uploads / Downloads / Storage space

This is one of the most important things about a hosting, how much can you upload and store there. The same way as you would rent a garage, you need to know how big it is. But it is a bit more complicated here. Storage space will tell you how many MB you can store at the hosting. Every podcast episode that you create will be around 0,5 or 1 MB per minute of the podcast, depending on the bit rate that you choose. Some hosting sites will also count how much you upload every month and how much your listeners download every month. So this is a very important data point because if your listeners can't download an episode, what is the point?

Embedding

Just like youtube, some of the podcast hosting sites will allow you to embed their player into your website. And sometimes this is the easiest way to show off your podcast on your website. This is not the most important feature your podcast host should have, but a big part of the podcast owners need it, so it can be important.

Price

The price of the hosting, of course, depends on what kind of a package you choose, some of the hosting sites will allow you to start for free (like SoundCloud) or with a minimal investment, but when your podcast starts to grow, you will have to move up to a higher package. So it is important that you compare also the higher packages because you will have to move there.

RSS feed

An RSS feed will allow you to sync your podcast to your subscribers and to other websites/apps and will allow you to grow your audience. It is important that your podcast host has an RSS feed available. This will allow you to automatically sync your podcast to 5-10 different podcast websites and will increase the reach of your audience, and the number of downloads.

Ease of use

Of course, we want you to have it easy, and focus on creating great podcast content and not play around with your hosting. We understand that you probably have some time to learn how to set everything up in your hosting, but you should be recording and editing, not learning the ins and outs of your hosting provider. A good hosting will allow you that.

Metrics

You want to see the thousands of listeners that download your podcast every day, right? Well, we will check how good the metrics are for both of our competing podcast hosting websites. Before we go into all the details, we need to know that in general, the podcast metrics are bad. We are able to see the number of subscribers on different platforms and number of downloads but we are just not able to see how long someone has listened, where he/she stopped etc. So that is not the fault of the hosting website, but the fault of the apps that people are using for podcast listening.
All right, let's go and check each of our today's competitors.
Soundcloud podcast hosting
Soundcloud is a system that was not really developed for podcast hosting. Its main idea is sharing music. In general, it has all the features that you would need in a podcast hosting, and is also created a bit like a social network, where people can follow other people or playlists. This is great, but on the other hand, there are features missing that would be developed especially for podcasters. One of the important red flags for Soundcloud is that they have been on the verge of closing down a number of times. I'm not saying that they will close down the service any time soon, but because switching hostings is a big task, this problem should not be taken lightly.
You can start hosting for free with a free package, that will allow 3 hours of upload time, and will show you basic statistics.
Ok, let's check the main criteria for Soundcloud:
Upload/Download/Storage space. The free account allows you to upload 3 hours of podcasts, and they have 2 paid packages (in 2018) the Pro (7 '¬ / month, 6 hours of upload) and Pro unlimited (11 '¬ / month, unlimited upload). Well, you will probably have to move to the Unlimited plan that also gives you some additional features like scheduled releases.
Embedding. This is where SoundCloud really shines. They have a great embeddable player that looks great and works great. You can embed it anywhere with ease and without any programming knowledge. You can play one episode or you can select a whole podcast to be played. Excellent!
Price. This one goes hand in hand with the storage space. The price for the unlimited plan that you will probably have to purchase is reasonable.
RSS feed. Soundcloud will allow you to have your RSS feed and share it with other podcasting platforms. If you want to get the URL for individual episodes, you will have to dig around the code, but once you learn how to do it, it can be just a small task.
Ease of use. I feel that sound cloud is really easy for listeners, and also that it can be pretty easy for podcast authors. The whole User Interface is easy and understandable.
Podbean podcast hosting
Podbean is a podcast hosting service, that was developed specifically for podcasting, so this is the first thing where we can see that they are different from Soundcloud, when we compare podbean vs. Soundcloud. This means that they are offering features that will allow you to manage (almost) everything that you will need for your podcast. The system allows you to create the whole webpage that will host your podcast, together with blog-like features. You can also host everything on your own domain, so you won't have to send your listeners to soundcloud.com/user/MyPodcastName, but you will just be able to send them to mypodcastname.com. They are affordable and it seems that with the recent changes that they did to their platform, they will start growing their podcast audience again. They also allow you to create paid subscription packages and sell them to your listeners.
Ok, let's check the main criteria for Soundcloud:
Upload/Download/Storage space. All in all, you will want to go with the unlimited hosting and unlimited downloads plan that is $14. The smaller plan that goes for $5 will allow you to upload 100 M of content and it will allow your users to download 100 Gb of data (bandwidth). This suffices for a small blog, but not really much more.
Embedding. Podbean now has a player that you can embed on your other web pages, that is pre-set to be included on WordPress if you have a WordPress blog, but you can, of course, embed it to any webpage.
Price. They have a free plan that is actually not shown on the pricing page. The smaller package for $5 monthly (or $3 if paid yearly) will be just enough for the start, but you will soon have to upgrade to the $14 plan. This one will allow you to host your podcast on your own domain, allow you to set up a custom design for your page and will give you more information on who and how downloads your podcast. If you will start a video podcast, you will have to purchase the $39 / month option
RSS feed. Podbean will allow you to have your RSS feed and share it with other podcasting platforms, and you can easily find it on your profile page
Ease of use. Podbean says that their Content editor (WYSIWYG editor) is easier and better than the one that WordPress uses, and this is a bold statement. I'm not sure if this is true, but they are doing everything they can to make the usage of their webpage as easy as possible and they are good at it.
The best podcast hosting?
Alright at the end we need a decision, where should you host your podcast. If you are deciding between Podbean and Soundcloud, I feel that the better option is Podbean. The major factor here is that you will be able to create a great looking podcast webpage on your own domain with a simple editor. The price is ok, and everything else matches what you need when creating a podcast. So. Don't look further go and open an account on https://www.podbean.com